PK's Tank Management Program offers a significant & recognizable cost savings through the use of a multi-functional tank cleaning service accomplished through innovative technology and qualified SME's to execute projects safely, within budget, a high degree of quality and a shorter time period than the conventional approach.
Reduce Downtime, Reduce Cost
PK Industrial is your answer to a comprehensive Tank Program. By coupling the business units of PK companies in a combined turnkey approach, we can reduce tank outage time to a fraction of the time of traditional methods.
Tank Cleaning
Tank API 653 Inspections & Reporting
Safety / Rescue Services for Tank Entry & Safety Personnel to Support Associated Work
Repair Recommendations if Welding & Cutting are Required
Interior & Exterior Tank Coating
Cost Comparison of PK's Tank Management Program vs. Conventional Methods on a 150,000 BBL CRT with Bottom Replacement
PK Tank Management Program
Not only is this a significant savings in time "out of service", there is also an associated cost savings in the cleaning, inspection, repair & coating of the tank. While every tank is different & timelines may vary, compared to the conventional approach, PK's Tank Management program can produce approximately a 40% savings, depending on the appurtenances associated to the tank.
Utilizing the conventional method for cleaning, inspection, repairs, safety services & coatings will require that the tank remain out of service for approximately 91.2 days.
Significant savings may be achieved by utilizing PK's Tank Management Program & PK's advanced Technologies.
PK will handle tank cleaning, inspection, repair & painting to provide an all inclusive approach that procides a highly valuable & unique service to our customers that is cost effective with a shorter execution time frame.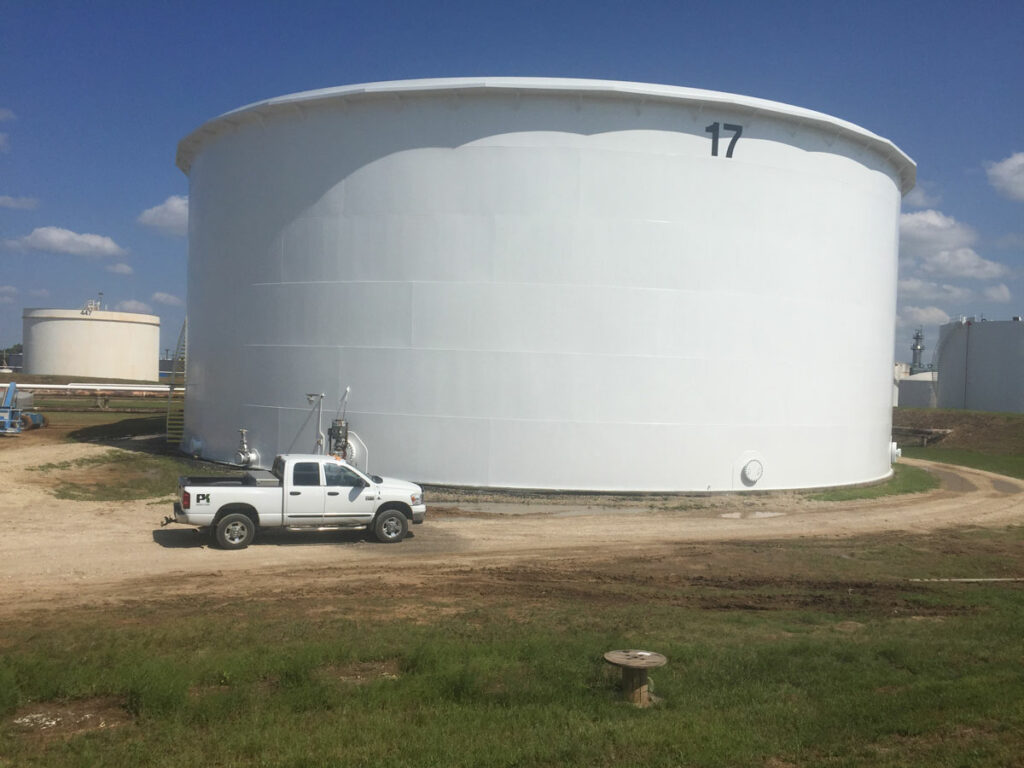 PK will clean the tanks using specialized propretary chemicals:
SURECUT – The preeminent cutter additive that is effective with a variety of cutters, increases cleaning power & saves time & cutter volume.
PYROTREAT – Eliminate pyrophoric exothermic reactions by converting iron sulfide to iron sulfate.
KLEEN-SOL – The ultimate time save that safely & effectively penetrates, dissolves & removes heavy oil, asphalt, fuel products, paraffin & other organic material.
Once free of Hydrocarbons, PK will perform the tank inspections utilizing our mobile technology, intelliSPEC™ & immediately provide real-time reports to the client allowing for a faster turnaround time enabling the client to make crucial decisions creating both a short & long-term repair program.
Interior & exterior coatings will be applied using the latest technology for surface prep (Blastrac), thick coat liners (plural component) & other specialty coatings.
PK will handle all the safety & rescue needs throughout the entire process, utilizing our designated OHSP Safety Representatives.
PK will offer a proprietary software maintenance program that will inform the owners when future inspections come due & when inspections are complete in real-time for client review & action.